2019 Fair Dates:
September 22nd through September 28th
September 29th – Harness Racing ONLY
Sorry, NO Pets allowed in the fair!
Fair Office Phone#:
207.829.5531
(please note – this number is NOT manned outside of Fair week.  Use the "Contact Us" link to be directed to the appropriate individual for your inquiry)
Mailing Address:  PO BOX 745, Cumberland ME 04021
Fair hours:  Gates open by 8am; Buildings open at 9am.  Buildings close at 9pm.  Outdoor events may run later.
Questions about Maine Ag Day?  Contact Carolyn Small:  207 829-3757
WOW – getting so close to the start of the 2019 Cumberland Fair!  Our plans are set for a week filled with agricultural exhibits, displays and exhibitions, and a great mix of entertainment is headed your way!  Save the dates – Sept 22-28! 
New this year – RaveX Outer Limits Tour on Monday evening!  Rawhide Rodeo with shows Wednesday and Thursday evenings!
Check out our daily schedule, linked here:  Schedule Only 2019  
Message us on Facebook with your ideas:  Cumberland Fair – official Facebook page.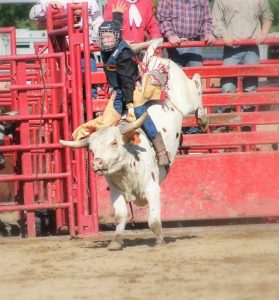 We are THRILLED to announce that the RAWHIDE RODEO will be performing at the 2019 Cumberland Fair!  Performances will be Wednesday and Thursday evenings, Sept 25-26!  Stay tuned for more, and visit their site at:  http://rawhiderodeo.com/index.html
The 2019 Fair Book is now available!  https://cumberlandfair.com/wp-content/uploads/2019-cumberlandfair-fairbook.pdf
Please note:  update on page 38/39 for Pulling Events Information: From:  Only one person  can help head/flag until team is hitched for distance events  To:  Preference is one person to help head/flag until team is hitched for distance events
---
For daily updates throughout the fair, take a second to 'like' our facebook fanpage!



"Always in September!"
Stay tuned for updates!  
Cumberland Farmers Club
Officers
Mike Timmons – President
Don Doyle – V. President
Jeff Steinman  – Interim Treasurer
Liz Tarantino – Secretary
Directors
Mark Cooper – Ted Googins – John Ames
Andy Dugas – Dan Fossett – Lyle Merrifield
Thank you for your support!