2020 Fair Dates:
September 27th through October 3
October 4- Harness Racing ONLY
Sorry, NO Pets allowed at the Fair!
Mailing Address:  PO BOX 745, Cumberland ME 04021
Fair Office Phone#: 207.829.5531   (please note – this number is NOT manned outside of Fair week.  Use the "Contact Us" link to be directed to the appropriate individual for your inquiry)
Fair hours:  Gates open by 8am; Buildings open at 9am.  Buildings close at 9pm.  Outdoor events may run later.
Questions about Maine Ag Day?  Contact Carolyn Small:  207 829-3757
Thank you to all our volunteers, workers, exhibitors, vendors and patrons for a fantastic 2019 Cumberland Fair!  We had a great week overall, and we hope everyone enjoyed it as much as we did!!! 
We are continuing to evaluate the current situation in regards to the 2020 Cumberland Fair.  We are working with the Maine Association of Agricultural Fairs, Dept. of Ag, and closely reviewing the re-open plan as presented by Governor Mills and the Maine CDC.  We hope to have a clearer direction by mid-late June.
Message us on Facebook with your ideas:  Cumberland Fair – official Facebook page.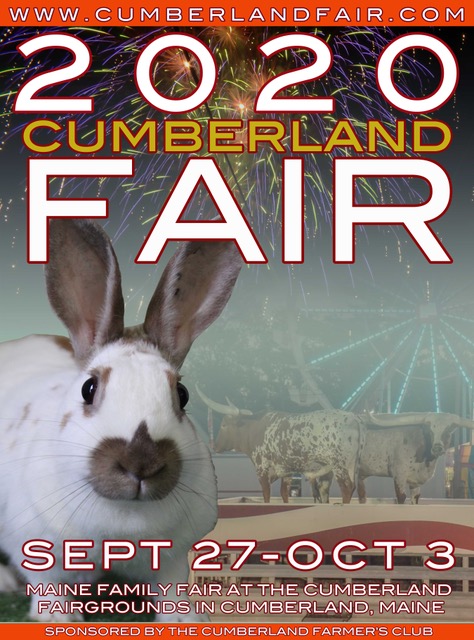 All American Rodeo (formerly known as Rawhide) – Returning for 2020!!!   Wednesday and Thursday evenings – Full Professional Rodeo both nights with all events!                                                                      
---
For daily updates throughout the fair, take a second to 'like' our facebook fanpage!



"Always in September!"
Stay tuned for updates!  
Cumberland Farmers Club
Officers
Lyle Merrifield – Interim President
Jeff Steinman  –  Treasurer
Liz Tarantino – Secretary
Directors
Mark Cooper – Andy Dugas – Dan Fossett
Ted Googins – Tammy Sawyer – Bill Webster
Thank you for your support!